Novice to Olympian we work with our patients to achieve their performance goals.
Dr. Kevin Aitken, FCCPOR(C)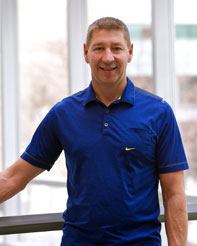 Dr. Kevin Aitken is a Chiropractor and owner of Edge Chiropractic & Sport Therapy. In addition to a Doctorate of Chiropractic, Dr. Aitken is a Fellow of the College of Chiropractic Physical & Occupational Rehabilitation. For over ten years, Dr. Aitken has been a lead instructor and practitioner of Active Release Techniques (ART) traveling around North America to teach at seminars to other doctors, physiotherapist and massage therapists.
Dr. Aitken is one of the few chiropractors in Canada that is trained in the OTZ (One-to-Zero) in evaluation and care to improve nervous system function including migraines, insomnia, frozen shoulder.
An avid competitor, Dr. Aitken is well respected by many in his athletic pursuits in a variety of endurance sports. A 12 time finisher of the Ironman races, including the World Ironman Championship in Kona, Hawaii, Dr. Aitken continues to compete in marathons and the ultra race, Powderface42 and the 125km Canadian Death Race.
Dr. Lindsay Alcock, DC
Lindsay Alcock, D.C. is proud to join the team at Edge Chiropractic and Sport Therapy, delivering exceptional health care to the downtown Calgary community.
Dr. Alcock was born and raised in Calgary and graduated with a Bachelor of Kinesiology degree from University of Calgary in 2000 before competing in the 2002 and 2006 Olympic Winter Games for Canada in the daring, head-first sliding sport of Skeleton. It was during her ten years of high performance sport when Dr. Alcock became inspired to help others reach their health and wellness goals.
Graduating from Palmer College of Chiropractic West in San Jose, California awarded with valedictorian honors, Dr. Alcock has a special interest in functional movement and gait analysis. In addition to manual adjusting techniques, Dr. Alcock is also certified in full body Active Release Techniques® (ART).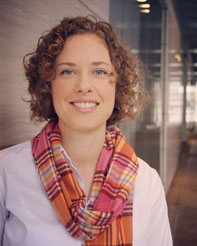 FACING LIFE HEAD ON®